Our Translation Division offers translation and production services for our customers.

The strength of our Division is its capability to provide a one-stop service that covers translation, printing and other production related services.

Experienced and skilled professionals at ILCC will deliver high-quality translations and production deliverables.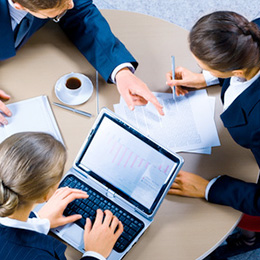 Our Services
Our translation services cover a wide range of languages, including various Asian and European languages, and we handle various types of contents. Our translation service covers both internal (in-house) documents and materials for external use, such as magazines, newsletters, press releases, reports, catalogues and brochures.

Through our production services, we have been providing both paper-based products (brochures, catalogues and reports) and electronic media (websites and other).
Pricing / Inquiries
Please kindly send below information via E-mail (tran@ilcc.com)

1. Intended purpose of translation
 (Examples: Presentation material, text for catalogue, press release, and etc.)
2. Volume of text(s) (Attached electronic data would be preferable)
3. Language(s) to be translated
4. Expected timing of your order and desired delivery timing
5. Desired delivery format

Please feel free to contact us at any time to tran@ilcc.com