The Public Relations and Public Affairs Division comprises a fully bilingual team of professionals with business experience working with clients from around the world. We provide clients with public relations services that are tailored to the Japanese market and Japanese media and matched to your company's style of business.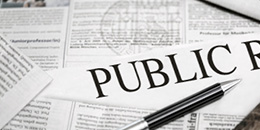 PR Planning and Program Implementation
Marketing Communication

We draw up marketing communication strategies, and create and implement programs to effectively promote sales of your goods and services.
Corporate Communication

We draw up communication strategies, and create and implement programs for your company or organization to establish good relationships with each and every stakeholder and to promote a positive image for your company in wider society as a whole.
Risk/Crisis Communication

We help you be fully prepared in handling risk communications by identifying potential risks in your company or organization, by making communication flowcharts and manuals that explain how to handle communications appropriately, and by providing media training programs by lecturers experienced in the field of national press and TV broadcasting. Further, should any incident or accident actually occur, we support crisis communication to minimize damage, by collecting and organizing information during the crisis and handling interviews with the press just after the outbreak of the crisis.
PR Business Support
PR Training

We plan and provide training programs, ranging from entry level to senior AE level in the form of lectures or workshops
Referral of human resources in PR

We can provide people from the media industry who are able to play the role of reporter in mock press conferences, assistants who can support your account teams, and PR planners who have business experience in the field of PR.
PR between Japan and other nations

When expanding your company, products or services overseas, we can introduce or help you find reliable local partner PR agencies who can support your local PR activities. Upon request, we can also communicate with local agencies in their native language on your behalf.
If you are an overseas company that wishes to advertise your products or services in Japan, we can smoothly promote such a PR project while explaining to you the differences between the Japanese market and media and those of your country.
Public Affairs
When it comes to policy trends etc. that may have an impact on the business environment of companies and organizations, we identify and analyze the social issues and stakeholders surrounding such trends. Based on the results of our analysis, we develop optimum messages for each stakeholder and reach out to national and local council members, government agencies, academic institutions, mass media and so on.
Support for Market Entry
We provide a one-stop service, which covers market research, PR strategy planning and execution, interpreting, translation and conference management services, for those who are planning to start business in the Japanese market.
Industries/fields benefiting from our services in the past
International organizations
Central government agencies
Incorporated administrative agencies
Local government agencies
Tourism-related agencies
Local revitalization support
Agricultural and marine products
Food service industry
Import and export industry
Consumer products
IT