Our bilingual members of staff have abundant experience in organizing various events in Japan and overseas and support your preparations for any event effectively and efficiently. We help you to achieve a successful event that satisfies both the organizer and also participants, while acting as your closest partner. The first priority of all ILCC members of staff is to always consider customers' needs first and to manage the event from the customers' point of view. Our prompt and finely-tuned response has been highly rated by our customers and we have earned their trust and confidence in our services.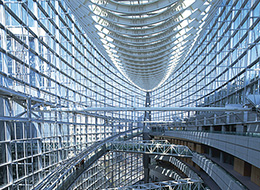 Our Services
When organizing international conferences, symposiums, seminars and exhibitions, a wide range of tasks need to be simultaneously organized prior to, during and after the event. Such tasks include budget management, PR activities, website production, liaison/coordination with VIPs and speakers, registration/reception of participants, preparation of equipments, creation of operational manuals, event management on the day, after-the-event reporting and account processing. ILCC provides comprehensive one-stop support for the organizers of such events to ensure that nothing is overlooked at any stage of the organizational process.
If you wish, we also undertake only a part of your operations.
Workflow for Event Organization
❶ Meeting with customer to fully assess customer requirements
❷ Proposals for venues, operational methods and budget plans
❸ Pre-event preparations
【1】Overall management

・Meetings with organizers
・Budget management
・Drawing up operational schedules and timelines
・Meetings with venue representatives and vendors
・Keeping minutes of meetings
・Creating draft plans for use of venue
・Creating exhibition layouts
・Translation
・Arranging interpreters and members of staff
・Preparing equipment / Internet environment
・Arranging food and beverages
・Creating operational manuals
・Creating risk management plans
【2】Secretariat operations

(For participants)
・Registration of participants
・Managing accounts (checking receipts of fees, issuing invoices and receipts, etc.)
・Responding to inquiries
・Planning reception parties and sending invitation letters
・Planning excursions
(For research paper presenters)
・Registration of research papers and notification of peer review results
・Supporting visa applications
・Creating instructions for presenters, chairs, etc.
(For invited speakers)
・Creating and sending invitation letters
・Liaison and coordination with speakers
・Arranging accommodation and transportation
・Creating plans for VIP services
(For exhibitors)
・Liaison and coordination with exhibitors
・Call for exhibition
・Creating exhibition manuals
・Incoming payments management
【3】PR, Production and Other Operations

・Producing leaflets and posters
・Advertising planning
・Producing conference websites
・Creating a system for participation applications
・Creating an online system for posting research papers
・Setting up and holding press conferences
・Liaison and coordination with event sponsors
・Liaison and coordination with related organizations and handling various applications
・Creating hand-outs for event
❹ Operations during the Event

・Setting up venue and management
・Managing overall schedule and progress
・Reception of participants, VIPs and speakers
・Equipment management
・Reception party / banquet progress management
・Staff, interpreters and MC management
・Security and risk management
・Filming and recording
・Keeping minutes of events
・Vehicle management, etc.
❺ Operations after the Event

・Creating and sending thank-you letters
・Drafting reports (summaries of questionnaires)
・Audio-typing
・Account settlement processing
※We also undertake only a part of your operations.
・Producing an event website
・Accepting participation applications and collecting participation fees
・Establishing and managing a system to receive research papers and to facilitate peer reviews
・Producing a collection of abstracts / proceedings
・Planning and producing gifts for participants
・Management of events (arranging an event director and members of staff)
・Arranging a bilingual master of ceremonies
・Arranging interpreters
・Liaison and coordination with speakers (including visas, flights and accommodation)
・Preparing audio visual equipment
・Audio-typing
Major Events Organized in the Past
Academic conferences
29th AIAA International Communications Satellite Systems Conference (ICSSC)
International Symposium on Wireless Personal Multimedia Communications (WPMC)
International Conference on Updating Quantum Cryptography and Communications
International Symposium on Innovative Solar Cells
International Conference on Photonics in Switching
International Conference on Infrared and Millimeter Waves
14th Conference on Optical Network Design and Modeling (ONDM)
Conference on the Asia-Pacific Academic Consortium for Public Health
Asia-Pacific Conference on Health Promotion and Education
Joint World Congress of ISPGR and Gait and Mental Function
Symposiums / Seminars
FIA Tokyo Conference
International Patent Licensing Seminar
Internship Forum
IPCC Outreach Workshop
International Symposium on Post-Kyoto International Climate Change Framework and Sectoral Approaches
JCCP Symposium
OECD/NEA RWMC-RF Workshop
Symposium on Pacific Energy Cooperation
3GPP workshops
Symposium on Information Security
Japan-Russia ICT Forum
India-Japan ICT Seminar
Asia Wireless Summit
ASEAN-JAPAN Seminar on Utilization of ICT for Environment Conservation
International Symposium on Biomedical EMC
Symposium on Information Security
CISPR
MRA International Workshop
Inter BEE DigiCon6 Asia Contents Forum
Automotive Innovation Conference
Dubai Airport Free Zone Business Opportunity
Investment Seminar on infrastructure investment in Myanmar
Africa Business Forum
ASEAN Investment Forum/ FTA Symposium
Overseas Events
Indonesia-Japan 3G and Next-generation Mobile Communications Seminar (Indonesia)
Japan-Malaysia Next Generation IP Network/3G and Next-generation Mobile Communications Seminar (Malaysia)
International Symposium on Wireless Personal Multimedia Communications (Finland, Denmark, Holland, France, Italy, India, Taiwan, Brazil, USA)
Wireless Broadband and 3G Mobile Seminar (Vietnam)
Seminar on Wireless Broadband Applications and Development in Philippines (Philippines)
Japan-Poland ICT Seminar (Poland)
Japan-India ICT Forum (India)
AAAS Annual Meeting (USA)
Brazil-Japan International workshop for Broadband Development (Brazil)
Asian Forum on Information and Communications Technology (Thailand, Malaysia, Vietnam, Singapore)
Asia Pacific Information Infrastructure (Singapore)